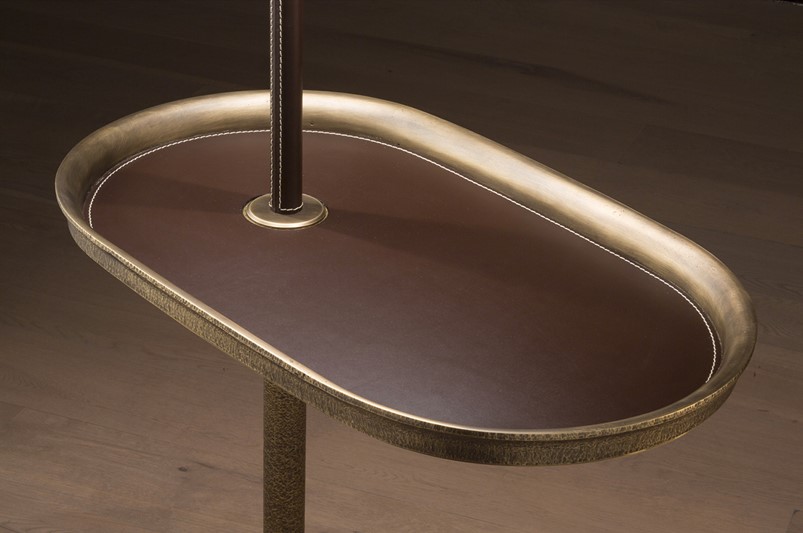 Every furniture brand surely has its favorites when choosing materials for its products. Bellavista Collection, the renowned producer of Italian luxury furniture, is no exception. When you browse its website, you can't help noticing that Bellavista brand definitely chooses certain wood species and metals more often than others.
It is especially true when it comes to the materials for metal parts and all-metal items. Their number is times smaller than that of woods for veneering. Bellavista Collection prefers aluminum and so-called red metals (copper, bronze and brass), with brass as the clear favorite.
Why it is so? Well, Bellavista Collection favors brass for a number of reasons.  First and foremost, brass looks gorgeous and goes extremely well with most of the other materials used in high-end furniture making. Brass is durable. Brass doesn't corrode. And brass is fairly easy to work with.
In spite of being called a 'red metal', brass in fact is an alloy, i.e., a mixture of different chemical elements. (So is bronze, by the way.) Brass consists mainly of zinc and copper, with few elements (aluminum, arsenic, phosphorus, silicon, manganese, nickel, etc.). Depending on the chemical composition, the melting point of the brass could be anywhere between 900 and 940 degrees centigrade (1,650 to 1,720 °F). It's rather low, compared to that of, say, steel. For foundrymen, it means that brass is relatively easy to melt and cast into, say, a statuette or a detail.
Thanks to their low melting points, brass and bronze were the among first alloys known to humankind. The most ancient technologies of their casting are millennia-old! They are called lost-wax casting and sand casting. The earliest artifacts made of brass date back to as early as the 5th millennium BC, and they were cast using sand casting. Bellavista's foundrymen cast most of the brand's brass items using this very technology – well, the equipment is surely more sophisticated than a few millennia ago, but the core of the casting process is still the same.
But casting an entire item or a detail is just the first step. The next one is applying a finish – a special coating, which serves both decorative and protective purposes.  Brass is beautiful in itself, but, if left alone, a newly cast brass detail quickly loses its glitter and forms natural patina (the same is true for bronze and copper). A layer of patina protects brass from further oxidation, but nobody can guarantee it will look good. A thin film of finish effectively protects the metal surface from oxidation – much more effectively than natural patina; one more advantage is that the color will remain the same at all times and the surface will always be sleek and smooth. There exists a wide variety of finishes that differ greatly in color. If you browse through the brand's website, you'll see what finishes are used most often. Bellavista's absolute favorite is 'antique bronze finish, which imitates the surface of old bronze. It turned out to be really universal: details with an antique bronze finish not only look grand and noble, but also go well with almost any wood species and kind of marble, not to mention other materials Bellavista Collection utilizes.
Along with this finish, the brand makes use of Nero Bellavista, black patina, gold leaf, silver leaf, and some others. Each of these finishes is beautiful in its own way. Refining the surface by hand gives an item an irresistibly attractive look of a handcrafted piece. Look, for example, at the structure of DALIA table lamp or at any of the statuettes Bellavista Collection is well-known for. By the way, the same item often comes in a variety of finishes to choose from.
Pretty often brass details are hammered by hand before applying the finish. "Hammered antique bronze finish" looks impressively indeed. Let's take a look at a few pieces where cast brass parts come with this finish.
The hammered surface makes structures of some Bellavista's lighting fixtures look really magnificent. Take a look at CAROL and TOSCA floor lamps and YWKO candle holders – don't they look special? Bases of FAROLITO floor lamp and 4STAGIONI table lamp are also hammered, which adds zest to their design.
So are the bases of CHANEL cabinet, LYDIE credenza, and console table named ELIZABETH – they are made of cast brass with hammered antique bronze finish.
What is more, cast brass with hammered antique bronze finish is so beautiful that it proved to be a great material for top insets- along with various kinds of marble. Optional top insets made of this material are offered for ALI BABA' coffee table and the sideboard named PHILIPPE (Metal or Leather).
One more impressive example of how beautiful hammered brass with an antique bronze finish could be is a decoration of a lower shelf offered for the recently designed ALCOBAS coffee table. The decorative elements depicting twigs and leaves visible through the glass tabletop give this remarkable coffee table an exclusive look. So, it is no surprise that ALCOBAS became a bestseller right after being presented on the website in 2020.
Just naming all the pieces from Bellavista Collection where brass with hammered bronze finish is used will take too long.  They are plentiful and multifarious. The structure of OSCAR coffee table, the base of GARCIA bench, handles of MESERO and MESERO PEQUENO trays… And many, many more. Each time hammered details look perfect to a tee, contributing to the overall look of the piece. Thanks to the brilliant talent of Attilio Zanni – the brand's co-founder and the chief designer, each piece is a harmonious unity of all materials and sophisticated design.
Nowadays, in the era of mass production, refining metal details by hand is an operation only producers of truly luxurious products can afford. Bellavista Collection has always been keen on handiwork; each its piece remembers the warmth of the craftsmen's hands. Maybe, that's why furniture and other items from this brand enjoy steady popularity.
Related Posts